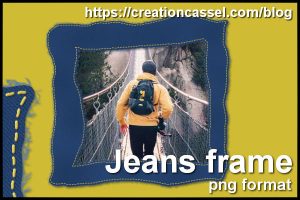 Do you like freebies? Of course, you do. That is why you are on this page, right?
This freebie consists of a torn edge frame made of jeans. It includes yellow stitching and frayed edges. It will allow you to place a photo of about 1800x1800 pixels in size. This is perfect for your adventure photos.
I created this frame using the Jeans Patch script available in the store HERE.
You can get more free beads, on this post.
You need to be logged in to download this freebie.
If you are already registered, just login.
If you are new to this site, register below and we'll send you the link by email.