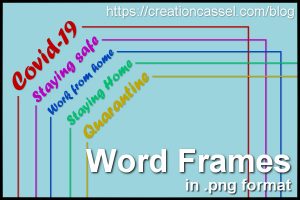 Do you like freebies? Of course, you do. That is why you are on this page, right?
This freebie consists in a set of 5 frames that are suitable for 5x7 photos. In this challenging time, when our lives have been turned upside down, our activities have also changed. Have you taken any pictures of your new work area, your new family routine and your new quarters? You can use those frames to showcase them, whether it is on Facebook, in emails or in scrapbook projects.
These frames were made using the Word Frames 4 script that you can get HERE if you want to make more frames with different text and different fonts.
You need to be logged in to download this freebie.
If you are already registered, just login.
If you are new to this site, register below and we'll send you the link by email.
Check your email to confirm your address