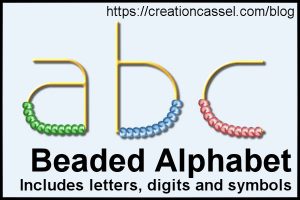 Do you like freebies? Of course, you do. That is why you are on this page, right?
This freebie consists of a full alphabet that includes the 26 letters, 10 digits and also 9 basic symbols. The font used is Basque, and turned to gold wire. Then, using the metallic Seed Beads 3, colorized to add some interest, each letter and digits were decorated.
The Seed Beads can be used as scattered beads or directionally along a path. For this alphabet, the beads were placed using the VectorTube script, allowing for precise placement.
See all the Seed Beads available in the store:
You need to be logged in to download this freebie.
If you are already registered, just login.
If you are new to this site, register below and we'll send you the link by email.
Check your email to confirm your address