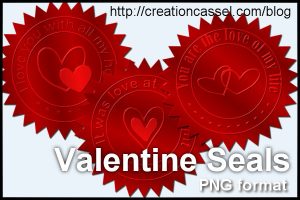 Do you like freebies? Of course, you do. That is why you are on this page, right?
This freebie consists of a set of Valentine Day custom seals. They are in PNG format and about 1000 pixels wide so you can use them on most projects and you can size them down if needed.
These seals were made using the Custom Seal script that you can use to create other designs for other occasions.
You need to be logged in to download this freebie.
If you are already registered, just login.
If you are new to this site, register below and we'll send you the link by email.
Check your email to confirm your address