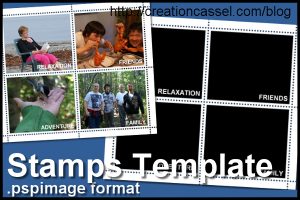 Do you like freebies? Of course, you do. That is why you are on this page, right?
This freebie consists on a .pspimage template that allows you to place 4 different pictures in a mask group (so you don't have to clip or trim anything). The text is in Vector format so it is editable as you wish.
This template made using the Stamps 3 script that you can get HERE if you want to create your own sheets with your own photos. Although the script will take your photos directly, I had to tweak the end result to offer you a layered version.
You need to be logged in to download this freebie.
If you are already registered, just login.
If you are new to this site, register below and we'll send you the link by email.
Check your email to confirm your address
Here is how easy this template will be to use: