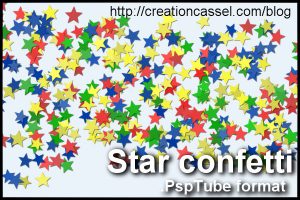 Do you like freebies? Of course, you do. That is why you are on this page, right?
This freebie consists of one set of star confetti using basic colors (three primary and one green). It is in .PspTube format so it can only be used with Paintshop Pro. You can create frames, text or just scatter them all over your project.
This tube was made using the Start Confetti Maker script that you can get HERE if you want to create your own star confetti in different colors.
You need to be logged in to download this freebie.
If you are already registered, just login.
If you are new to this site, register below and we'll send you the link by email.