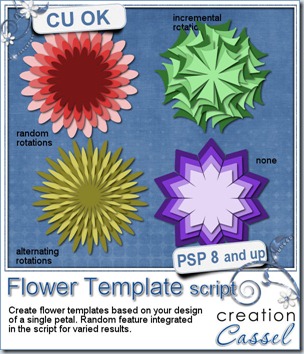 Layered templates are great to customize elements to match a kit, a layout or any project you want to do. But you might either be tired of the templates you already have or don't want to go through the trouble of making new original ones because it is time consuming (rotating petals to make a base, duplicating, rotating, resizing the layers, calculating how much to resize or rotate, and repeat for as many layers you have).
This script will do all the calculation for you and all the tedious work. You only have to choose the overall size (from 500 to 1800 pixels), draw your own unique petal and choose which type of rotations you want for the subsequent layers. That's it. The script does the rest.
How many petals you get? How many layers you get? How much each layer will be resized? That is all up to chance as there is a random feature integrated into the code so you can start with the same initial petal and get many different kinds of results. That is a great tool to create matching similar flowers, even though they are not perfectly identical.
Once you have the greyscale layered template, use them as you wish. Color the layers, move them, replace them by papers from your kit. You can even add various effects to them by using different scripts. Try the Edge Magic, the Glittered Edge, the Inked Edge or the Colored Edge.
This very versatile script for Paintshop Pro is available in my store: Creation Cassel
If you want a chance to win this script, check out this thread in the Happy Place where you can add your name and be entered in the draw. The winner will be announced on Monday night.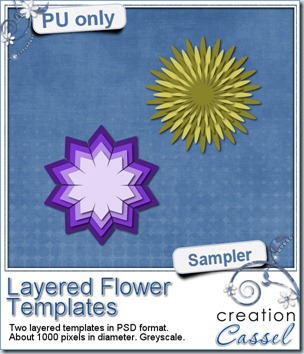 This week, i am offering you two of the four flowers created for the preview. One has no rotation to the various layers (although you can rotate them if you want) and one illustrates the alternate rotations.
They are both about 1000 pixels wide in greyscale (the color is only for the preview purpose) and in PSD format.
What will you do with them? Show me. These templates are soooooo versatile, i am sure 100 users would create 100 different pieces of art with them. Let's start a show off!
You need to be logged in to download this sample. You can either login, or register on the top of this page.