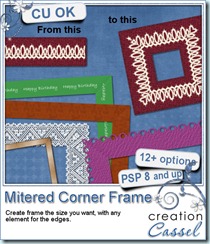 With this script, you will be able to make an infinite number of rectangular (or square) frames using just about any long image. You can use any ribbon, lace, paper edge, wood piece, decorative doodles, etc. I am sure you can think of many other elements you can use to make the side of the frames.
The script can create the frames three different ways: (1) it can create a symmetrical frame with ribbons, laces, doodles (2) it can create a frame with a directional element, meaning it will take all the length (or almost) of the ribbon/lace or (3) it can create a frame from elements that are neither symmetrical, not directional, like you would get with a piece of wood.
You can get this script in any of my stores: Creation Cassel, Do It Digi, Scrapping Whispers, and Divine Digital. Remember that my scripts are always 25% off the first weekend they are released so you can get a good deal until Sunday night.
Do you want a chance to WIN this script? Check the Happy Place thread here and add your name to it.
Limequilla suggested that i code this script, a little while ago. I was not sure how I would write it with so many possible scenarios of what would be used for the edges, but i really think this will work well for any of your layout, or kit. Thanks Limequilla for suggesting it. Remember that if you want to suggest a script, and i make it, you will get it free (before everyone else too!)
Guyloup played with my scripts and here is a layout she made (using the Mitered Corner Frame, and the Custom Confetti scripts)