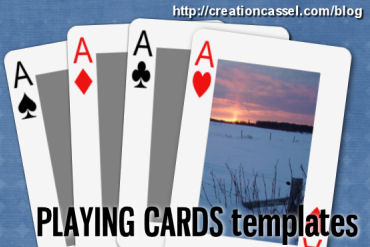 Do you like freebies? Of course you do. That is why you are on this page, right?
These cards have been extremely popular in the past, which is why I am offering them as featured freebie for the month of April.
They are in .pspimage format ONLY and are made with a mask layer so you only have to slip your photo on the layer and it will appear in the center area of the card. Each of them will accommodate a photo or about 2 inches by 3.5 inches.
So, what will be your 4 aces up your sleeve? Your 4 children? The 4 seasons of your backyard? Four location you visited during your vacation? It is really up to you. And why not post your result on our Facebook page? Others would love to be inspired by your project.
And if you are still waiting for inspiration, like our Facebook page, while waiting for others to post!
You need to be logged in to download this freebie.
If you are already registered, just login.
If you are new to this site, register below and we'll send you the link be email.
Check your email to confirm your address