Newsletter
User comments
"This script gives you a list of every element and paper you have used on your project. You can then copy & paste for your credits. It;s also useful for designers as you can compile a list of your items when making a preview. If your files are named badly, just take a moment to batch rename them and the script will work it's magic. This script is a must have to add to your PSP tools!
(about Credit List compilation scripts)
"
by
Bernadette Hunt
Other
Categories
Archives
My stores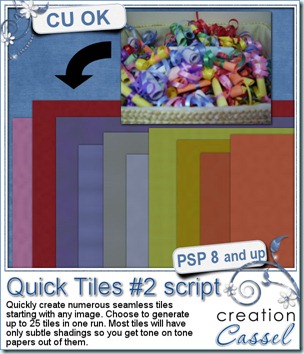 Last week, i promised to have a new script that would be a perfect companion to the Quick Tiles script. Well, this is it. This time, the script will create tone-on-tone seamless tiles from your image. Just like the other script, this one offers you options. The tiles you will get will have only subtle patterns that might not even show if you only look at the tile, but floodfill any larger surface and you will see that design appear. You can run both scripts on the same image and get perfectly matching papers. How neat is that? Again, this script is only for Paintshop Pro users (sorry Photoshop gals!)
You can get this script in either one of my stores: Creation Cassel and DigiScrapWarehouse.
Do you want a chance to win it? I started a thread in the Happy Place of the DST forum where you can go and add your name. Just answer the question "how do you create tone-on-tone papers?"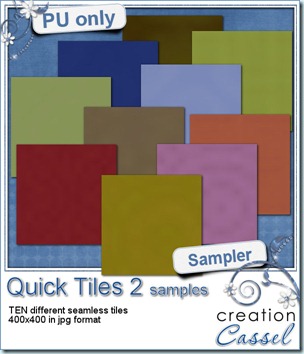 Last week, i let you have 10 seamless patterned tiles created when i was making the preview. This week, i will do the same. Since i am starting with the same image, this week's tiles will match last week's. They are all 400×400 jpg tiles. Use them with various scale and angle settings for very different results. I would LOVE to see how you would use all those tiles in a layout. Can you do that? Show it to me. Click on the preview to download.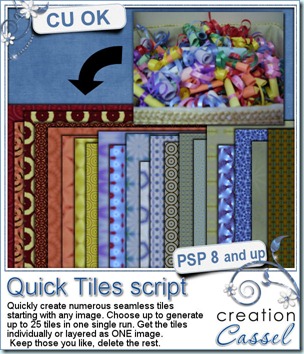 For those who were waiting for this script to go in the store, it is there now. I apologize for the delay that was caused by a glitch in the store.
It is available now in both my stores:
CreationCassel and DigiScrapWarehouse.
And keep an eye on next week's release which will be a great companion to this script!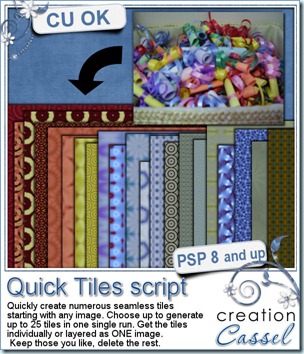 Do you sometimes run out of ideas to create patterned papers? This script will help you pass that designer's block. Open any photo, image or colored doodle, and run the script. You can generate up to 25 tiles in one run. Every run will give you a different set of tiles as there are several random functions integrated: a random area will be picked in the image, random settings to create the pattern, and random settings for the seamless feature if you choose it.
This tool will help Paintshop Pro users create a ton of interesting patterns, very quickly. In fact, you can get those 25 tiles in less than one minute! With all those tiles generated, keep the ones you like, delete the others. If you dont have enough, run the script again. Simple!
Due to a technical glitch, the script is not yet available in the stores, but it will be soon. I will update this post as soon as the script is available.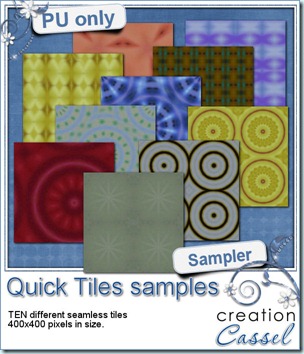 Although it is not available for purchase, it is available to win! Check out this thread in the DST forum and simply go add your name to it with a comment about the script. Just that. No hoops to jump through, no long math problem. Just add a comment. I will be back on Monday with the name of a winner.
As for a sample, this week, i am giving you 10 tiles that were generated from the photo in the script preview. Use those tiles to create your own papers. Adjust the scale and the angle to get different effects. Add a texture, an overlay, etc. What will you do with them? Show me your layouts! Simply click on the preview to start the download.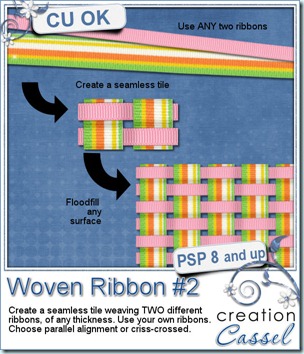 Did you see last weeks script where you could weave any ribbon, lace or other element? This week, i am releasing another weaving script but this time, it works differently and really gives a fun result. You can weave any combination of TWO different ribbons, laces or elements. You can have the similar ribbons running parallel to each other or at an angle. The script ends with unmerged but linked layers. The segments are slightly shadowed for realism, and you can add your own shadow once the area is filled with the tile.
So, now, you don't need to weave elements manually since you can create a seamless tile with your Paintshop Pro, to simulate a whole area of woven pattern, and you are not limited to only pick a color or gradient or pattern since you will be using actual elements you already have. Perfect tool to match the weaving to your layout or kit.
You can get this script at my stores: Creation Cassel and DigiScapWarehouse.
And for a chance to win this script, check the giveaway in the DST forum at this thread.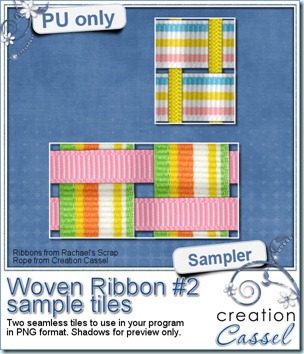 As a sample of what can be done with this script, i played around with some of Rachael's ribbons (they are great by the way!) and a rope from my set of Rope tubes. I think the result is going to be pretty fun to play with. I am giving you two seamless tiles for you to create elements or backgrounds. To me, those colors would be very suitable for your summer layouts. Since the ribbons are not mine, these tiles can only be used for Personal use.
Just click on the preview to start download.
Do you want to see other things that can be done with the weaving scripts? Last week, i was able to weave a braid too and a rose stem. What do you think of how they are used? I have to say i was pretty pleased with how it came out. As you can see, you can weave just about anything that is long and somewhat thin. What else could you think of weaving?
I will give out the link to those two free samples in my newsletter this Sunday. If you are already a subscriber, simply wait and it will be in your mailbox early Sunday. You are not subscribed yet? Well, you better hop over here to give me your email so i can deliver you those goodies! (if you are not interested, afterward, you can unsubscribe, no questions asked).
****************************
While you are around, did you know that Paintshop Pro X3 is on special for the month of July? Yes, instead of $99.99, you can get it for only $29.99. This is NOT the upgrade, but the FULL version. If you only need the upgrade, it is $24.99. Talk about a deal! If you never had Paintshop Pro and would like to use all those wonderful scripts and tubes in my store, this might be the perfect opportunity to add this program to your graphic arsenal!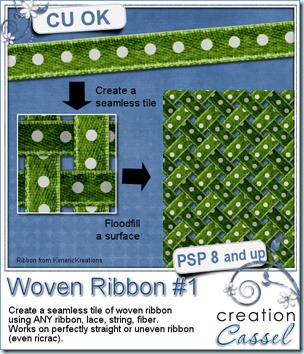 I had written a tutorial a few years ago on how to create a woven pattern in Paintshop Pro, without using any outside plugin. As i was looking at the steps, I challenged myself to find a way to do it with a script. Let's remember that a script does not "see" the work and requires numbers for just about any command. Well, I am pleased to say I made it. This script will take any ribbon (you can also use lace, string, chain, braid, etc.) and make it into a simple woven pattern using four segments of the ribbon (so all segments are not exactly the same for a more realistic look).
The script will create a seamless tile that you can then use to floodfill any larger surface, and since you can vary the scale and the angle of the tile when you set the material.
Not only can you use the same exact ribbon four times, but you also have also the option to do some adjustments to each segment, like changing the brightness or colorizing. What can you weave? Just about anything that is kind of straight!
You can get this script in my stores: Creation Cassel and DigiScrapWarehouse.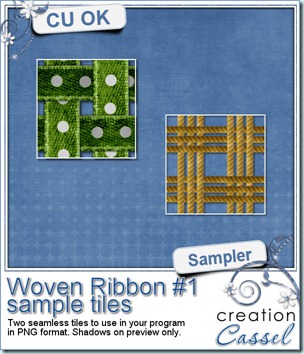 And if you want a chance to win this script, check out this thread at the DST forum and just add your name to the thread.
How about a couple of samples to see what YOU can do with such seamless tiles. I created these two tiles using the script. The green one is using one ribbon from KimericKreations. The rope tile was made using a rope tube. What would you do with those? Simply click on the image to start the download.
How about the Campus? Did you hear about the big launch of the Basic Scrap Course with Paintshop Pro? It happened last Monday and there is a great promotion that will last until July 11th only. In addition to a special price, you will get YOUR CHOICE of products from three participating designers, 24 sketches to help jumpstart your inspiration, but also $10 coupon to my store, AND a chance to win a $25 coupon for Persnickety Prints. But the coupons for my store and the chance for Persnickety Prints are ONLY for those registering up to July 11th.
Not sure yet? Check out the first 9 lessons for free and the project tutorials in the Beginner Scrap section.