Newsletter
User comments
"What a find! Cassel, you genius -
this [Stray Pixel Catcher] script
runs great, and will save me HOURS of time cleaning up my designs! Finally - someone who writes great, useful utility scripts for PSP users!"
by
Kim lichtfuss
Other
Categories
Archives
My stores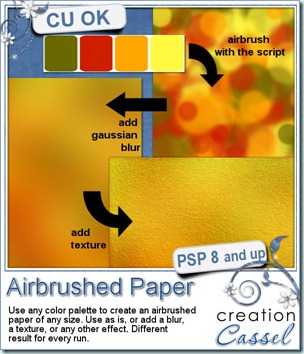 Here it is. In full size too!
Using the script to create an airbrushed paper is only the beginning of the fun. Once the basic paper is done, you have an unlimited number of options to work with it. You can add blur (gaussian, motion, radial), you can smudge the "paint", add a wave effect, an artistic effect, or even apply various filter effects. And then, you can use that paper to create elements, ribbons, brads, frames, or any other decorative element. Again, this script only works with Paintshop Pro.
This script is now available in my stores: Creation Cassel and DigiScrap Warehouse.
I also have a draw for you if you want a chance to win this versatile script. Check this thread, and tell me one idea of an effect you could add to the paper once the script is finished.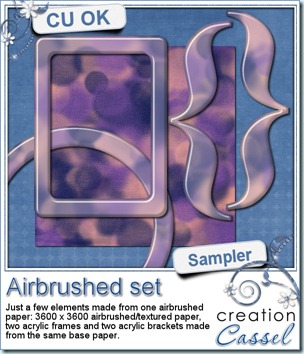 I know, you always look for something to see the product up close. Or, if you are not a PSP user, you want to play with the result, even though you cannot use the script. Well, this week, i created a paper with the script and then, made a few elements for you using that same paper as a pattern. You can get the base paper (with texture), in addition to 2 frames, and two brackets that were also run through the Acrylic script. Simply click on the preview to start the direct download.
And, if you read the previous post about an upcoming contest, you might consider downloading this freebie (and many other freebies from this blog!). I'll tell you on Feb 1st!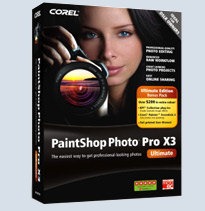 On February 1st, there will be a big contest on this blog. What is to win? Over $200 worth of prizes. In fact, it will be just a random draw, but you will have three chances to enter. I will not disclose everything … yet, but let's say that the first prize includes a copy of Paintshop Photo Pro X3 and something else. This might appeal to PSP users who might want the latest version of PSP, or to non-PSP users who might want to give this program a try (more than 30 days!) to use some PSP specific products (like scripts and tubes). But this is not all. You will have to stay tuned, and you will get all the details on February 1st.
Can you guess??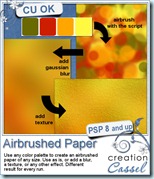 Are you waiting for a new release in my store? I am sure you are but due to some technical difficulties related to a store upgrade, it will be delayed somewhat. However, i wanted you to have a SMALL peek at what it will be. This script will create an airbrushed surface with YOUR choice of palette, from 2 to 6 colors. Because of the random feature integrated in the script, you can run it multiple times, and you will never get the same result twice. Once the airbrushing is done, you can add whatever effect you want to it, or use it as is. This is a great way to create background papers for any layout, or to match your kit. 
So, keep an eye on this blog and my facebook fan page to find out when this script will be available to you.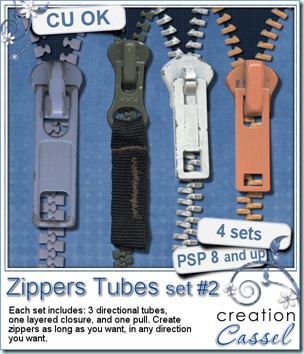 Did you get the first set of zippers that was released a few months ago? Here is another set.  It was kind of fun to get my husband to scan the big winter coats. At first, he thought i was a bit weird to ask for those, but in the end, i managed to get some neat zipper teeth and pulls. Since they are tubes, you can place them wherever you want, along any vector path, and they will always be perfectly spaced. The pulls are layered so you can insert any other decorative element if you want.
You get 4 sets, and each set includes: one tube for left teeth, one tube for right teeth, one tube for closed teeth, one pull, and one layered pull base. They can only work in Painthshop Pro.
You can find those in my stores: Creation Cassel and DigiScrap Warehouse.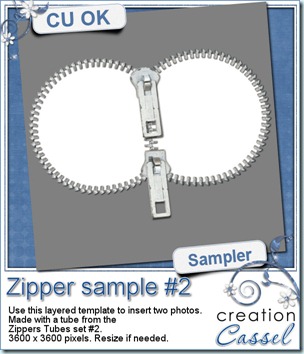 Do you want to play with the zippers? Check out this free sample i have for you. It is almost a template, using a zipper to frame two photos. This is 3600 x 3600 pixels layered PSD template with the zipper already placed and shadowed for you. Use both inserts to place photos, journaling or both. Simply click on the image for a direct download.
Can you think of other kinds of tubes you would use in a kit or a layout? Just suggest it!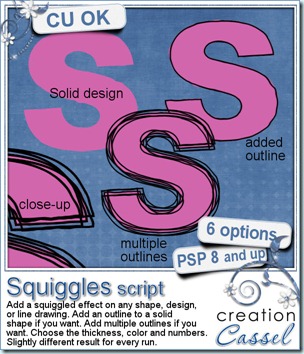 Do you sometimes want to have a drawing that does not look as neat as usual? A bit of a child like look? or hand drawn doodle like when you are waiting on the phone or in a boring meeting? This script will turn any design, line drawing or shape, and slightly distort it to give you that look. You get several options: you can use the given line drawing only, you can add one to a solid shape, you can choose the thickness of an added outline, you choose the color and the thickness of the outline. And everything is left on a separate layer so you can even recolor each individual outline or add whatever effect you want.  Use it for alphas, basic shapes, hearts, frames, etc. Very versatile!
You can find this script in my stores: Creation Cassel and Digi Scrap Warehouse.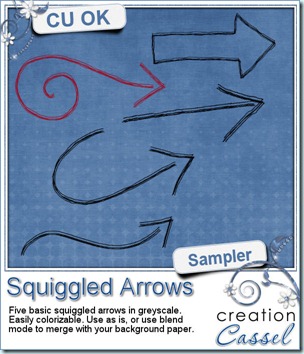 And here is a little sample made using this script. These arrows were initially drawn by hand, so they are not vector base and probably did look a bit uneven to start with! Each of them is in greyscale (i darkened them so you could see them better on the blue background!) so you can colorize them to match your layout or your kit. Use them as is on your layouts, or use a blend mode to get a different effect. Add noise to simulate a little glitter. Apply whatever effect you want. They are in png format and about 400 pixels wide.
Just click on the image to download.
If you want a chance to win this script, check out the Happy Place thread at the DST forum and simply add your name and answer the little question. A winner will be announced on Monday night.
KimericKreations made a wonderful layout using this script. Here it is for you to enjoy. She used her own kit "A la carte" for it. Can you spot the squiggles? They are so beautifully integrated into the layout, i had a hard time finding them, although they are in plain view. Check the description in my store for a closeup of where she used the script (and she used it more than once too!)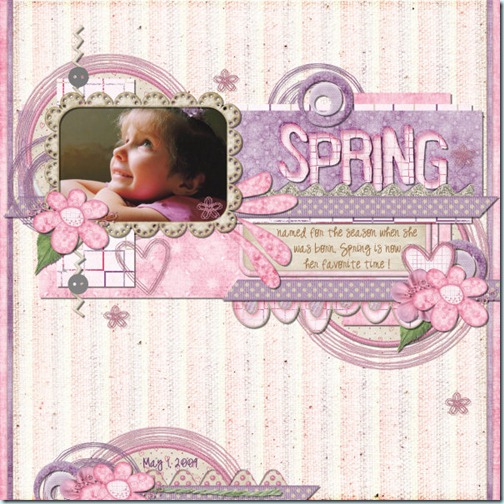 Last week, we saw a few basics about scripts. Let's continue the list of common questions.
Can scripts work on all PSP versions?
Yes, on all versions of PSP, 8 and above. However, the compatibility of any script with your version will depend greatly on the person who coded them, the type of script and the version it is created with. For example, if someone is recording a script with her PSPX2 and uses the pick tool, that script will NOT work in PSP9, simply because that pick tool does not exist in PSP9 so the script will fail. However, if a recorded script uses only tools that are also present in PSP9, it is more likely to work, although it is not certain either. There are various particularities in just about all the versions that have to be known, understood and taken into consideration by the scripter to create a script compatible with all versions. Unfortunately, too many people have limited knowledge of the scripting language and are not able to render their script compatible with previous versions so if you want to download or buy a script, make sure it is compatible with your particular version.
Some scripts go in the Restricted scripts folder and some go in the Trusted scripts folder. What is the difference?
As stated before, scripts are commands that will be executed for you. Some commands might have an effect on your computer or that cannot be simply undone with a Ctrl-z. Such commands include saving files to your computer, closing a file or using some more advanced Python commands. To keep your computer safe, the only scripts allowed to perform such tasks have to be in the TRUSTED scripts folder. It is a way for the computer to know that you TRUST those scripts to not cause any damage to your computer. So, to be on the safe side of things, always save a script in the RESTRICTED scripts folder, unless specifically asked by the scripter. It is a good habit to take.
My PSP is not in English, will scripts work?
Yes. Scripts are written in Python language and that is English based, even if your PSP is in a different language. Although the language of the coding is English, the message window could be coded in any language the scripter chooses. In my scripts, for example, I have a special code that will give you a French message if you are using a French version of Paintshop, and an English message in all other cases. Since I only know French and English, I could not code messages for other languages.
Hey! Photoshop has scripts too!
Yes, Photoshop has scripts, and they are also a set of commands, but coded in Photoshop's language so they cannot be read by PSP. The scripts made for Paintshop Pro will not work with Photoshop, simply because PSP and PS use a different language. It is like a recipe written in English cannot be followed by an Inuktitut cook. In the same way, actions written for Photoshop will not work in Paintshop and vice versa.
Where to find good scripts?
Well, glad you asked! Where to find scripts will likely depend on what kind of scripts you want. I have been coding scripts for a few years now. I would not do painting scripts because I have no talent to paint or draw! So, many of my scripts are tool scripts offering many options. Check them out in my store. Almost all of them are compatible with PSP8 and up and I have a few free ones so give them a try and see what they can do for you.
Here are other sources for good photo and tool scripts
http://suzsplace.com/8scripts.htm
http://pixelnook.vapho.com/index_All.html
http://www.dejudicibus.it/psl/
http://www.sheilsoft.com/psp.htm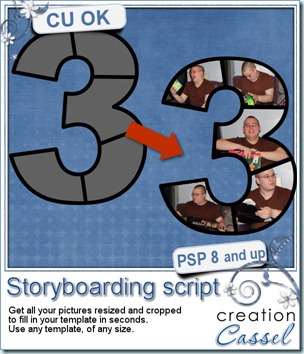 I thought of this script when i saw some great templates that had many many spots for pictures. I felt it was too much work to open, resize, crop, copy, paste, and adjust each photo for each spot. Lucky for me (and for you), i coded a script that does all that, in the blink of an eye. It does not matter if you have 6 photos to place, or 50. It does not matter if they are all square, or round, or all odd shapes. The script work well in all those situations. And i can tell you that it will take only seconds to place them. The longest part will be… to choose the pictures!
You can find that script in any of my stores: Creation Cassel, Do It Digi, and Digi Scrap Warehouse.
Heather worked with this script and this is her layout. Can you imagine how long it would have taken her to place all the photos on that layout, manually? I count no less than 39 photos! She used Scrapdragon's kit, Elegance, and a template from [Collages] by Chrissy Williams.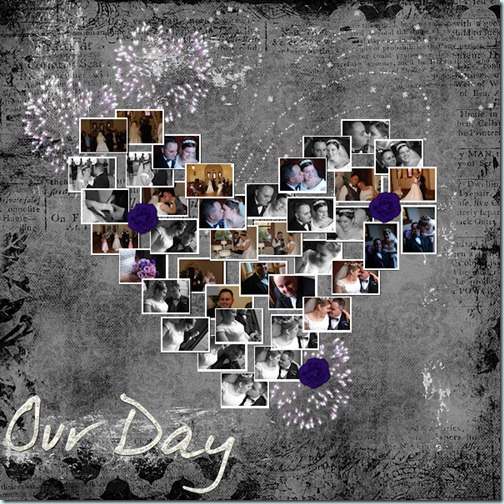 Do you want to see this script in action? Check this short video.
What do you think of a video to show how the scripts work?
Following the series of articles on Tubes, i got a few comments and requests about other particular features of Paintshop Pro. So, here is the first part of a 2 part series on Scripts.
What are scripts anyways?
Scripts are a new feature introduced to Paintshop Pro by Jasc with the version 8. Scripts are a set of commands that are pre-recorded and executed on demand. Paintshop Pro comes with several basic scripts already loaded, but you can find more on the net that you can buy or download and install on your computer.
What can a script do?
A script can do just about anything you would do manually with your program. It can choose a color, floodfill, write text, draw shapes, make a selection, add a shadow, apply any effect that you would do yourself.
Why use a script?
The advantages of a script can be the speed of execution, and the precision. For example, a script can add a drop shadow to 50 separate layers in less than 30 seconds, while the same steps done manually might take a several minutes. Another advantage is the precision. If you need to create a selection very precisely or place guidelines "to the pixel", the script can do it in the blink of an eye without any hesitation and very accurately.
Are all scripts the same?
Not really. There are different "types" of scripts. There are recorded scripts and coded scripts. Those are not "official" definitions, but a way for you to understand some major differences. There are element creating scripts, painting scripts, photo scripts and tool scripts.
What is the difference between a recorded script and a coded script?
With the arrival of scripts, in version 8, also came the ability to record them. For example, if you need to convert a photo to sepia, and then add 40% noise, you would be able to record those steps, save the sequence as a script and reuse it later in one click instead of several. Some snippets can be added to give the user the option to choose a color or such, but the user input is usually pretty limited.
On the other hand, when you use Paintshop Pro yourself, you can see what you are working on, you can see where to click to floodfill, you can see if the photo is horizontal or vertical and you can adjust your actions accordingly. A recorded script cannot do that because it just repeats the same steps over and over again. For example, if you record a script that draws a line along the edge of a 1000×1000 pixels paper, it will only work on papers of the exact same size. If you try to run it on a 3600×3600 pixels paper, the recorded script will not see the difference and will draw along the path you gave it initially. So, in order to have a script work with different images, formats, and sizes, additional commands need to be added and those commands cannot be simply recorded. Functions, loops, mathematical calculations, string manipulations and many more can be used. They require editing the code itself so a good knowledge of coding language is mandatory. Of course, coded scripts can do much more advanced tasks and mostly, can incorporate user input and work with it.
… to be continued next week
Do you have additional questions, about scripts or about PSP? just email me or post a comment. I might just address your point in the next segment.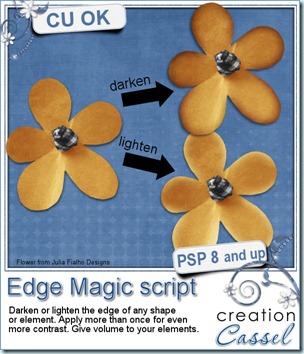 For the New Year, I created a simple yet very effective tool for scrappers and designers. In just a few clicks you can darken or lighten the edge of any element or shape. It gives great results on many situations.
If you have some extracted elements, like flowers, leaves, torn papers or cardboards, or many of those available elements, adding a dark or light edge might give it a whole new look. It will save you time since this process will take only a second, instead of having to use the burn or dodge tool all around the edge.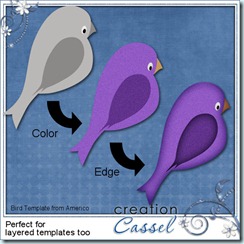 I also found that if you are using layered element templates, it is perfect to add that little volume effect instead of the flat look of layered papers. Look at this little bird template from Americo. Adding colors only makes it ok. Adding the darker edge almost makes the bird fly! Don't you think?
It is available exclusively in my store, here.