Newsletter
User comments
"I love your scripts...I just wish I could afford more of them!"
by Nanasdinky
Other
Categories
Archives
My stores
Come and shop. You have a lot to choose from!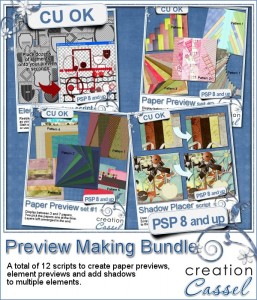 Designers, I have created, over time, several scripts to help you make your previews. I decided to bundle TWELVE scripts for you.
- 5 scripts to place 3 to 7 papers in various dispositions
-5 scripts to place 8 to 16 papers
- 1 script to put all the elements
- 1 script to add the drop shadows to each individual element/paper on your preview.
THAT is a time saver. Heather has used the Paper Preview Set #2 and said it took her 4 minutes to do something that usually took her one hour. Talk about saving time. And the element placer can also reduce your time on that task by 90%.
The time you saved from doing previews is time spared to design. Wouldn't you rather design than make previews??? This bundle is only available at Creation Cassel and Do It Digi.
TWELVE scripts in a bundle, that is a deal!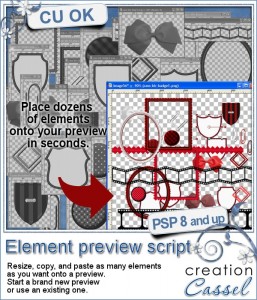 If you are a designer and you create kit, i bet you spend a lot of time making your previews. Am I right? Making a kit preview involves a lot of repetitive work and since you are often working with large files (especially if you have 3600×3600 papers) the program gets slow or might even freeze, while you loose all your work since your last save (IF you saved). Adding elements to a previous can be tedious: you have to open the file, resize the image, copy it, paste it in your preview, go back to the image and close it making sure you dont save it by accident. Then, when you have all your elements in the preview, you end up with lots of layers dont you? And how long can this process take? 30 minutes? an hour? 3 hours? Obviously, it depends if you have a mini-kit or a mega-collab kit.
This script will cut your preview making time to a fraction. It will do everything with your element files that you usually do by hand. It will do it automatically, with light-speed. I am not kidding. Heather placed 52 elements in one preview and it took one minute. ONE MINUTE ! ! and Diosa did the same with 71 elements using her own preview to start with and it took 85 seconds. Can you do that by hand? I know i can't! You can get this script in my store.
Do you want to win it? Yes, i have a draw coming up either Sunday or Monday for this script. Add your name to the thread here and cross your fingers.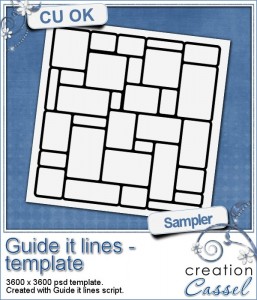 I created this template in just a couple of minutes using the Guide It Lines script. It allowed me to place numerous guidelines and then snap to them in order to create this multiframe template.
Download this template. It is full size 3600×3600 in psd format.
Will you use it? What will you use it for? Show me and i might display it here (with your permission and due credits of course!)
This script will be a great time saver for scrappers and designers too. Have you ever tried to place guidelines in very precise place? And what if you need to place 10 of them? Well, this will now be easy. Just choose how many vertical and horizontal guidelines you want (up to 30 in each direction), and if you want them evenly spaced or at random. Once they are in place, use them to do color blocking, create multiframe, align text and words, etc.
Available at Creation Cassel, Do It Digi, Scrapping Whispers and A CHerry on top.
Check out at DST for a chance to win this script.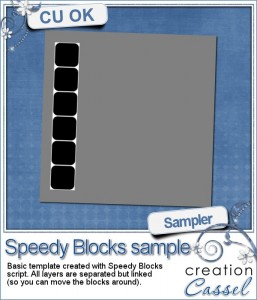 How about this sample template created in less than 30 seconds with my new script, Speedy Blocks. It is not called "speedy" for nothing!
This is a .PSD file (layered) so you can use it as you want.
If you use it, please, show me what you did! I would LOVE to see!
Click on the image to download.
This script will create a template for you with your own specifications. Many options to choose from: the size of the page, the shape of the blocks, how much space you want used, number of columns and rows.
All the layers will be numbered by the row and column, and are linked together for easy moving.
You can move the cluster of blocks to a different place on the layout, or remove some of the blocks from the cluster. Use the blocks to make a calendar, to add some colored papers, for photos or simply for parts of a photo, add decorations. The possibilities are endless!
Get that script at Creation Cassel, Do It Digi and Scrapping Whispers.
Thanks Limequilla for the layouts.