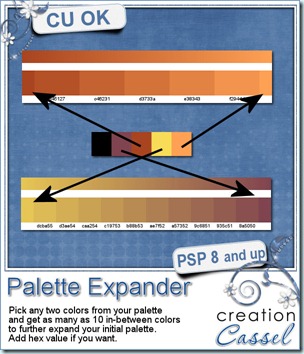 Do you sometimes have a color palette to work with but feel somewhat trapped by the given colors, wishing you had more options? Maybe you want some in-between colors that would still fit the palette, yet, be different enough to give some flexibility? This script will help you achieve this. All designers using Paintshop Pro will want this. If you have a starting palette of 5 colors, you will be able to expand your palette to add many many intermediate colors. Choose any 2 colors from the palette, and choose how many colors you want the script to generate (from 3 to 10), and just watch it go. It will take only seconds and you will now have a perfectly matched set of colors to create richly colored scrapbooking kits.
You can get this marvellous tool at my stores: Creation Cassel and DigiScrapWarehouse.
And if you want a chance to get this script free, add your name to the RAK thread here and i will come back Monday with a winner. Even if you decide to purchase it at sale price, you can still add your name and if you win, then you get a coupon for a future new release.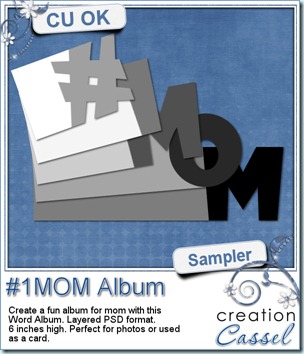 Since this weekend is Mother's Day at least in some countries (i am not sure about everywhere in the world), i thought it might be a fun to create either an album or even a multipage wishing card for your mom or any other mom you know who deserves well wishes. This album, created with the Word Album script. It is 6 inches high and just over 10 inches wide. You can resize it down if you want to use it only as a card. It is available in layered PSD format for use with most graphic programs. Simply click on the preview to start the direct download.
Now…. are you shopping a lot for this iNSD weekend? Still some energy? Want a surprise?
I will have a 40% sale on ALL MY PRODUCTS Sunday, May 8th. If you missed my Birthday sale, this is the perfect opportunity to catch up. You are VERY lucky there is a second sale in my store within such a short period of time, as it is a very rare occurence. So, hold on to your wishlist and come back Sunday, for 24 hours.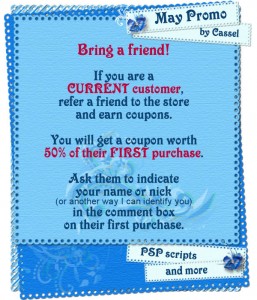 Now, how is this for a promo. Starting with this NSBD weekend, and for all the month, if you are a CURRENT customer of Creation Cassel, you can send friends over and YOU get rewarded. How so? In just a few steps:
1- Tell your friends about Creation Cassel
2- Let them browse and place an order.
3- During the checkout process, in the comment box, have them mention your name (or nick or another way i can identify you).
4- Once the order is placed, i will issue YOU a gift certificate worth 50% of the total amount of their FIRST purchase.
Simple? sure it is! So tell all your PSP user friends about the great ressources available at my store. If they dont use PSP, well, i still have a few thing, particularly the stitching fonts and the Month templates (in several languages) or even the Script for hire services i offer.