Newsletter
User comments
"I LOVE your stuff, it is so nice to see someone creating resources for us PSPers to use instead of like photoshop where EVERYONE does actions!! And your stuff is so versatile and pretty! :) Yes, I probably WILl end up owning most of your store at some point (god knows the majority of my "designer resource" budget goes straight to you)"
by Seacastle Graphics
Other
Categories
Archives
My stores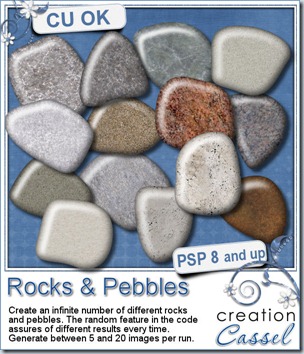 Sheila showed me a picture of pebbles and wanted to know if it was possible to create a script to make similar elements. This immediately challenged me into finding a way to recreate the random shapes for pebbles, since we all know that no two rocks are exactly the same. I didn't want to use preset shapes, because i felt it would still be limiting, so i coded the script to create a random shape, by itself (you can see it run, right in front of your eyes!).
Although the zip file includes 15 rock textures that are used randomly, you also have the option to add your own patterns, and as many as you want too. Take photos of rocks in your own backyard and use them instead of the textures already listed in the script and you have the most custom rocks for your projects.
This script is among the easiest ones to run as you don't have anything to do, other than tell it how many pebbles you want. The rest is absolutely automated from start to finish!
You can get this script in my store, Creation Cassel
And if you want to have a chance to win this script, head over to the Happy Place section of the DST forum and add your name to the thread here. I will be back on Monday with the name of a winner.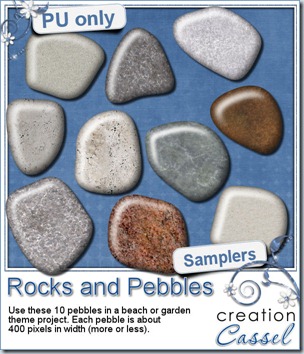 Do you want to play with these rocks? I have a set of 10 for you. They are obviously in png format, and about 400 pixels wide. They are small, but hey, they are pebbles after all! If you REALLY need larger ones, just let me know and i can see about editing the code of the script. In the mean time, have fun with these.
Simply click on the image to start the direct download.
 News from the Campus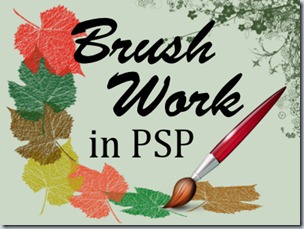 You have only a few days left to view the workshop on Brush Work in PSP. On Sunday, it will be removed from free access.
On Sunday, i am expecting to upload the edited version of the workshop on Picture tubes in PSP.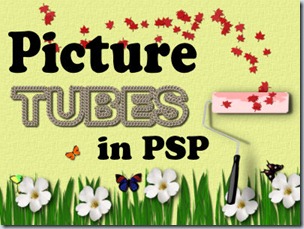 Were you attending the workshop last Sunday? Did you notice the "technical problem" that happened in the first 10 minutes when you had all the sound and no picture? I hope you didn't leave because once the issue was noted, it was fixed and the workshop was great. But i know a few participants got a good laugh (i read the chat log afterward; it was hilarious!)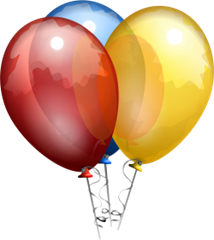 The Campus will soon celebrate the first year of the arrival of its first students. Several activities and promotions will take place. You want to see ALL of it, so get ready:
Join our mailing list to get all the details as soon as they are available.
Like our Fan page and follow our Twitter.
See you around the Campus! (and bring a friend along, it is even more fun!)
4 Comments »
RSS feed for comments on this post. TrackBack URL
Leave a comment